Name: Jin Hyuga
Age: 19
Gender: Male
Bloodline: Hyuga, Byakugan-white eyes
Description: Jin is a rouge ninja from the hyuga clan. When he was 12 his father was killed by a traitor in the hyuga clan. Ever since then he has been training so that one day he could return and bring justice to the one who killed his father. One day, Jin got curious while he was traveling to find better training grounds and found the village hidden in the abyss. A year after becoming part of the village he continues his training with the help of his gaurdian Minako.
Personality: Jin is a dedicated person who doesn't give up easily. Although he'd rather focus on training, he actually would take time to help those in need. Remembering what his father taught him, he looks foward to meeting people and potential sparing partners.
Special skills and abilities: Unlike many of the Hyuga clan members, Jin can regenerate his chakra. This is his most valuable ability. Using his almost perfect chakra control, he posesses the ability to fly. He also posesses many of the hyuga clan techniques including the clan's primary fighting style, the Gentle Fist. His gentle fist style can damage organs and slow down an opponent's use of chakra. Of course we can't forget that he has the Byakugan, which allows him to see things that can't be normally seen with the human eye. He has also gotten rid of the byakugan's blind spot.
Jutsu
Hakke Rokujuuyonshou-8 Trigrams 64 Palms: Used with the Byakugan, he launches a combo consisting of 64 strikes, aimed at the 64 chakra points needed to disable an opponent's chakra usage.
Hakke Hyakunijuuhachishou-8 Trigrams 128 Palms: A doubled variation of the 64 palms, where he can increase the number of strikes up to 256. This move is mainly used when he's faced with more than one opponent.
Hakkeshou Kaiten-8 Trigrams Rotation: When an attack nears, he releases a large amount of chakra then spins, nullifying and sometimes deflecting almost any attack.
Hakkeshou Kaiten Kamikaze-8 Trigrams Divine Rotation: While using the Rotation jutsu, he can use his control of chakra to change the technique dramatically. With this technique he uses his chakra to increase it's range tenfold, therefore giving it an attack capability. While spinning he expands the barrier quickly, causing an explosion and launching his opponent.
Hakke Hasangeki Kuushou-8 Trigrams Destructive Air Palm: An attack in which he thrusts his palm out at his opponent while at the same time firing a large amount of chakra at the opponent. At close range it's most likely to break stone. At long range the chakra is used as a projectile and can disperse for a shotgun-like effect(like yusuke's spirit shotgun from yuyu hakusho). Both can be used to cut off an opponent's chakra.
Nehan Shouja-Deep Sleep: A genjutsu that allows him to put a large body of people into a state of deep sleep. Can be dispeled with a release skill.
Kage Bunshin-Shadow Clone technique: Jin regrets using his Byakugan to take a peek at this forbidden jutsu, but decided to use it anyway. Unlike the normal clone jutsu, this one allows him to create clones that can use his jutsu and actually do real damage to his opponent.
Kage Bunshin Hakkeshou Kaiten Kamikaze-Shadow Clone 8 Trigrams Divine Rotation: His ultimate finishing move in his normal state. He creates shadow clones that surround him and then create a barrier, then he starts to focus his chakra while the clones regenerate their's and transfer it to him. As the amount of chakra generated gets larger, the barrier starts spinning on it's own. Once the chakra is at it's peak, he focuses it all around his right palm and disperses the barrier. The clones then disperse as well. He then fires an extremely large wave of chakra from his right palm. Having held that much chakra forces his right hand to be temporarily inoperable. (The wave of chakra looks like Gogeta's Super Saiyan 4 Kamehameha x10 from DBZ)
8 Trigrams Silver Gate Opening: Using his Byakugan eye as a gate, he summons an immense amount of chakra, this chakra is very dense and it has a silver hue. Once he uses this move, his attacks become stronger and his speed is increased, also his byakugan becomes a lot stronger as well enabling him to keep up with even faster foes.
used after activating 8 Trigrams Silver Gate Opening
8 Trigrams 128 Palms Blade Dance: He uses his katana, Hakke Hozishinsei combined with the technique, 8 Trigrams 128 Palms. He uses his now enhanced byakugan eye to cause blades of chakra to fly from his sword when he swings it and the blades slightly home in on the target. Can throw up to 1000 blades because of the silver chakra. Mainly used as a finishing move.
Heaven's Arrow Storm: Another finishing move. He disperses his chakra and spins like he does with the rotation move. This time though, he creates arrows made from the dense silver chakra. He uses all of his chakra to create a large storm of arrows. When he finishes spinning, he uses his byakugan eyes to make the arrows home in on the target. Kind of like Byakuya's move from Bleach.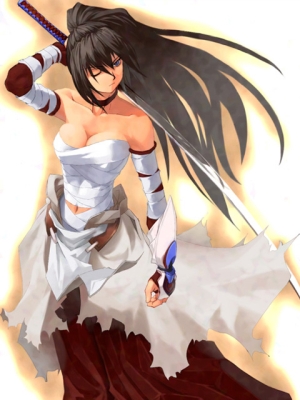 Minaku Hyuga: The spirit of a fallen warrior who's chakra was bound to the blade of a legendary hyuga clan warrior. The Hakke Hozishinsei is the katana she is summoned from. She is somewhat jin's gaurdian and does her best to help him with his training and the battles he's in. Her ability is almost eqaul to his and what she lacks in chakra she makes up for in skill and control. She also has exceptional swordskill.
Minaku's Jutsu
Byakugan: Same as any Hyuga's eyes, but has no blindspot.
8 Trigrams 64 Palms: Same as Jin's but can be used at long range by firing the chakra.
Teleportation: She uses her byakugan to teleport to as far as she can see. She also uses this when inside the sword if Jin is in serious danger.
Shuriken Light Storm: A team attack she uses with Jin. She throws 20 shuriken at a time from summon scrolls and Jin uses the shadow clone jutsu to multiply them to 100 at a time and as they make contact with anything they explode. Her strongest move. She can also do the move on her own but it becomes less powerful.
Hozishinsei's Release: This move brings out Minaku's true power. After a few hand signs, chakra pours from the sword and into her, taking away the sword's healing and byakugan boosting abilities. With her true power drawn from the sword fuses with her, her abilities and her strength, speed and stamina far surpass Jin's. The downside is that once her power is released, she becomes completely mortal for the time she is summoned and therefore can be killed permanently. After she's out of chakra she has to recharge it to return to the sword.